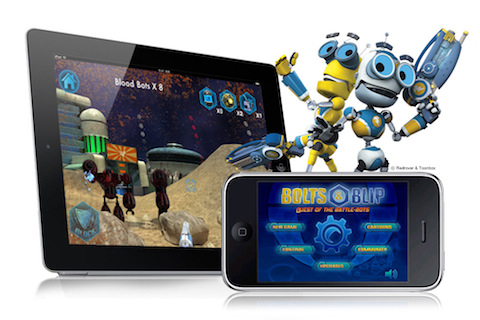 Bolts & Blip, i metallici protagonisti della serie animata e presto di un lungometraggio 3D, approdano ora nell'App Store in un gioco sviluppato da LeftRight Studios e ToonBox Entertainment. Catapultati in un'eccitante avventura ambientata in un mondo robotico, avremo bisogno di tutta la nostra abilità e precisione con la pistola ad acqua per arrugginire i nostri nemici.
Ai classici elementi da FPS, Bolts & Blip – Quest of the Battle-bots, alterna sequenze originali estratte dalla serie TV che aprono e chiudono i vari livelli di gioco e che possono comunque essere richiamate dal menu principale.
Abbiamo la possibilità di giocare con il nostro personaggio preferito tra i cinque messi a disposizione e utilizzare i crediti guadagnati per sbloccare upgrades per le nostre armi. Potremo poi condividere i nostri punteggio su Twitter, Facebook o sul social gaming network MogiMe e, magari, vincere uno di premi riservati ai giocatori più bravi.
Bolts & Blip – Quest of the Battle-Bots è disponibile sullo store a 0,79 euro ed è compatibile con iPhone, iPod Touch e iPad. Richiede iOS 3.0 o successivo.